Co.As.It. Community Services was excited to celebrate its 11th Community Concert on Saturday 25 November at the Old Museum at Bowen Hills.
This year, over 300 guests welcomed international performer Alfio to the stage for a mesmerizing solo performance accompanied by incredible vocals, comedy, and classic piano ballads. Held under the patronage of the Italian Consulate for Queensland and Northern Territory, the event also featured a special Broadway performance from Vavachi Entertainment, with soprano Gabrielle Jack and tenor Roger Davy giving new life to all-time favourites from musicals like Phantom of the Opera and Cats.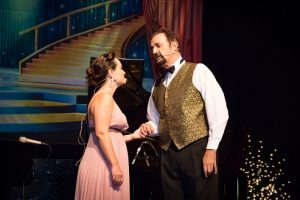 Master of Ceremonies for the afternoon, TV personality Damien Anthony Rossi, welcomed distinguished guests including Italian Consul for Qld and NT, Dott. Ludovico Carlo Camussi, President of Com.It.Es Mariangela Stagnitti and Hon Teresa Gambaro. After a stellar first act from Vavachi entertainment, the live show continued with the main act for the afternoon, all the way from New York, Emmy nominee Alfio. Amongst applause and laughter, the guests sung along to much loved Italian classics, with Alfio's unique talent shining through every performance. During intermission audience members were treated to an array of Italian traditional sweets and biscuits, generously donated by Gerbino's Pasticceria.
Alfio later returned to the stage for the final act of his performance, followed by the much anticipated drawing of the raffle. Our generous raffle sponsors this year included, Touring Abruzzo by Luciana Masci, Basile Imports, KM Smith Funeral Director, Councillor Norm Wyndham and Dendy Cinemas. Six lucky winners walked away with gourmet gift hampers and vouchers.
The event concluded under the historic entry doors of the Old Museum with traditional panettone and a glass of prosecco, generously donated by Italiquore Brands Internationale.
Each year Co.As.It. is excited to give something back to its community members, bringing forth a joyous start to the festive season. We would like to thank our sponsors for their continued support, and all Co.As.It. staff who contributed to a successful event.
If you would like to know more about our sponsors, please click on the links below:
Italiquore Brands Internationale. Website: http://italiquore.com.au/

Gerbino's Pasticceria. Website: http://www.gerbinos.com.au/

Touring Abruzzo by Luciana Masci – For 13 years now Luciana Masci, director of Touring Abruzzo has been sharing her passion for Italy with many wonderful guests.

For those who dream of taking a trip to Italy and seeing all that 'The Boot' of Europe has to offer, there are Italy tours to suit everyone at Touring Abruzzo. Our small group tours of Italy stand out from the rest for their authentic, locally-connected guides and insider knowledge as well as the many experiences and locations we visit. For your next Italy trip, consider these undiscovered gems of central and southern Italy – Abruzzo, Puglia, Basilicata, Marche and Molise regions.
It is truly the ITALY YOU HAVE BEEN SEARCHING FOR…Learn more about Touring Abruzzo's range of tour departures, private tours and heritage/genealogy services: www.touringabruzzo.com. 

K.M. Smith Funeral Directors – We think of Everything. K.M. Smith is and always has been a 100% Australian family owned firm providing a caring, traditional, and surprisingly affordable funeral service built upon strong family values. We have served Queensland families in their hour of need for 6 generations. Website: http://www.kmsmith.com.au/

Councillor for McDowall Ward, Norm Wyndham. Website: http://www.normwyndham.org/
Basile Imports – Choose the Best, We Do. Basile Imports has built its reputation on this company motto to become a successful importer of Italian fine food and wine in Australia.
Website: http://www.basile.com.au

Dendy Cinemas, Portside. Website: https://www.dendy.com.au/cinemas/portside
Flora Di Lizio – very generous community member