Harmonious Workplace Celebrates Multiculturalism
About 60 people gathered at Co.As.It. recently, to celebrate Harmony Day. With enough food to feed five times as many people, the acknowledgement that we've all come from somewhere else was demonstrated by food from all over the world. Having acknowledge the Turrbal and Jagera peoples as the traditional owners of the land, staff shared recipes and dishes from their ancestors' countries of origin, before participating in some gentle Latin dancing.
With staff speaking a total of 52 languages, other than English, Co.As.It. is a microcosm of Australia and definitely somewhere that should celebrate its successful multiculturalism. What began as a day to acknowledge March 21st, the United Nations International Day for the Elimination of Racial Discrimination, has grown to a week of celebrating Australia's multiculturalism and the successful integration of immigrants into the community.
Co.As.It. staff placed posters, maps, flags and other mementos of their heritage on the walls and chatted about the history of the foods they had brought, almost all of which were home-made. The blue and orange Co.As.It. uniforms were enriched with Mexican tapestry belts, national soccer team shirts and various other accessories, or by additional orange, the Harmony Day colour. The Harmony Day website states that traditionally, orange signifies social communication and meaningful conversations. It also relates to the freedom of ideas and encouragement of mutual respect. Many people choose to wear something orange during Harmony Week to show their support for cultural diversity and an inclusive Australia.
Co.As.It. runs free weekly dance classes at the Italian Language Centre in Newmarket and staff were treated to half an hour of dancing with professional Latin dance teacher Rafael Pitarello. Staff left the event feeling refreshed and that night, many family members were treated to leftovers from the day. For information about Co.As.It.'s free dance classes, contact Cintia Paolino on 3624 6100.
International Women's Day 2020
Brisbane, QLD. March 7, 2020 – More than 360 guests, predominantly women, attended Co.As.It.'s high tea for International Women's Day (IWD), Saturday 7th March.
This year's IWD theme of #Each for Equal stressed that individually, we're all responsible for our own thoughts and actions – all day, every day. We can actively choose to challenge stereotypes, fight bias, broaden perceptions, improve situations and celebrate women's achievements.
Attendees were treated to addresses from Hon. Grace Grace, Minister for Education and Minister for Industrial Relations, Lady Mayoress, Nina Schrinner, Co.As.It. CEO Dina Ranieri and keynote speaker, Belinda Cox, Communities and Partnerships Program Manager from the Brisbane Domestic Violence Service, who delivered a highly informative and poignant speech about the current state of domestic violence in Queensland and nationally.
Prior to introducing Ms Cox, Ms Ranieri gave a well-received address highlighting the potential threats posed to aged care workers, who are predominantly women, from the spread of coronavirus, and the role of women, as the mothers of future generations, in combatting the unacceptably high rates of domestic violence.
Of course there was time for fun and frivolity too, with sponsorship from Italiquore, fashion parades by Designer Emporium and ModnamarKa and more than 35 raffles drawn. Funds raised went to a very worthy cause, Co.As.It.'s dementia and carer support program.

International Women's Day 2019
Brisbane, QLD. March 11, 2019 –  Co.As.It. Community Services celebrated its 8th Annual International Women's Day event with a "Harmony & Delights" Morning Tea on Saturday 9 March. The event kicked off with a "Mingling Hour" for guests to enjoy bubbles and canapes. Rosanna Natoli from Sunshine Coast Channel Seven hosted the event and guest speakers, Marcus Pearce and Laura Panarello, shared insights into longevity and dementia, with over 300 guests.  Morning Tea delights included delicious scones, quiches and eclairs. Tania Geerssen was the lucky raffle prize winner, taking home a diamond ring worth over three thousand dollars donated by Crown Family Jewellers. All proceeds went towards Co.As.It.'s Dementia & Carer Support Program.
Co.As.It 40 year Anniversary Gala Dinner at BCEC
Brisbane based Co.As.It. Community Services celebrated its 40th year of delivering services to the South East Queensland community with a Gala Dinner at the Brisbane Convention and Exhibition Centre on 27th October 2018. The services go beyond delivering aged care and social support to include the teaching of the Italian language and culture at the Italian Language Centre in Newmarket. Over 340 guests attended the memorable event including team members and committee members past and present, sponsors, volunteers and VIP guests. Dina Ranieri, Co.As.It. CEO says: "I am honoured to witness this amazing milestone and be a testament to the positive impact our organisation has made on the South East Queensland community." To commemorate the occasion an historical booklet was created capturing the progression over the years, and a documentary was launched on the night featuring an interview with the founder, Fiorenza Jones. Members of the committee past and present also contributed to the documentary telling the story of the past 40 years. During the event a slideshow looped hunderds of images that showcased client social outings, forums, classes, celebrations and festivals, past and present. The president of the committee, Nereo Brezzi hosted VIP's the Hon. Stirling Hinchliffe, Italian Consul for Queensland and Northern Territory, Dott. Ludovico Carlo Camussi, Jacinta Webb representing Hon. Grace Grace (Minister for Industrial Relations), Councillor Krista Adams, Councillor Vicki Howard, Councillor Norm Wyndham, the Italian Ambassador Hon. Francesco Giacobbe, and President of the Com.It.Es for Queensland and Northern Territory, Mariangela Stagnitti. Guests were hosted by the charismatic Damien Anthony Rossi and the lovely Naomi Price. They enjoyed a sumptuous 4 course meal, wines and liqueur. The live music was provided by the talented De Bellis Band from Sydney, the lead singer Claudia Migliaccio was a finalist on The Voice the same year as Naomi Price.
Senior's Week 2018
Enjoy a tour of the fabulous Commissariat Store exploring Queensland's history, including morning tea. Then enjoy a lovely cruise including buffet lunch all only $49 including pick up (and drop off) from International City Church, 23 Foster Street, Newmarket. Meet at 9.30am sharp, call 07 3262 5755 to book your place because seats are limited!! RSVP 9th August.
Seniors' Week 2017

This year to celebrate Seniors' Week "Celebrating a Queensland for All Ages" , Co.As.It. will be hosting 2 luncheon events. Seniors Week is an opportunity for Queenslanders of all ages to join together and celebrate the valuable contributions of older people. Our first event will be held Wednesday 23 August at Tavernetta Function Centre at Carseldine, and the second will be held Saturday 26 August at the Abruzzo Club at Carina.  Both luncheon events will be the perfect opportunity to release your inner child and join the celebration with great food, live music, dancing and prizes. Cost is $25 per person and includes lunch. To book please call Co.As.It. on 3262 5755. For all the details, view the flyer below.  We hope to see you there, embracing your age, whatever it may be! Seniors Week Flyer 2017 Past Events: 2016 —>
Annual Community Concert
Co.As.It organises this annual event to bring together the community (usually between November and December).  It provides an opportunity for Co.As.It. to thank the many members of the community for supporting our organisation and the work that the team at Co.As.It. undertake everyday of the year.   The concert presents a selection of professional entertainers from all over Australia.  Panettone (Italian Xmas cake)  and spumante is offered to everyone in attendance as part of the celebrations for the festive season.  The Community Concert is well advertised and known to community members, an event not to be missed! Past Event: 2016 —>
International Women's Day
THE DETAILS Event: International Women's Day Morning Tea Time and Date: Saturday 10 March 2018, 10.30am – 2.30pm Where: Victoria Park Golf Complex, Herston Road, HERSTON Tickets: $65 – To book contact Co.As.It. on 3262 5755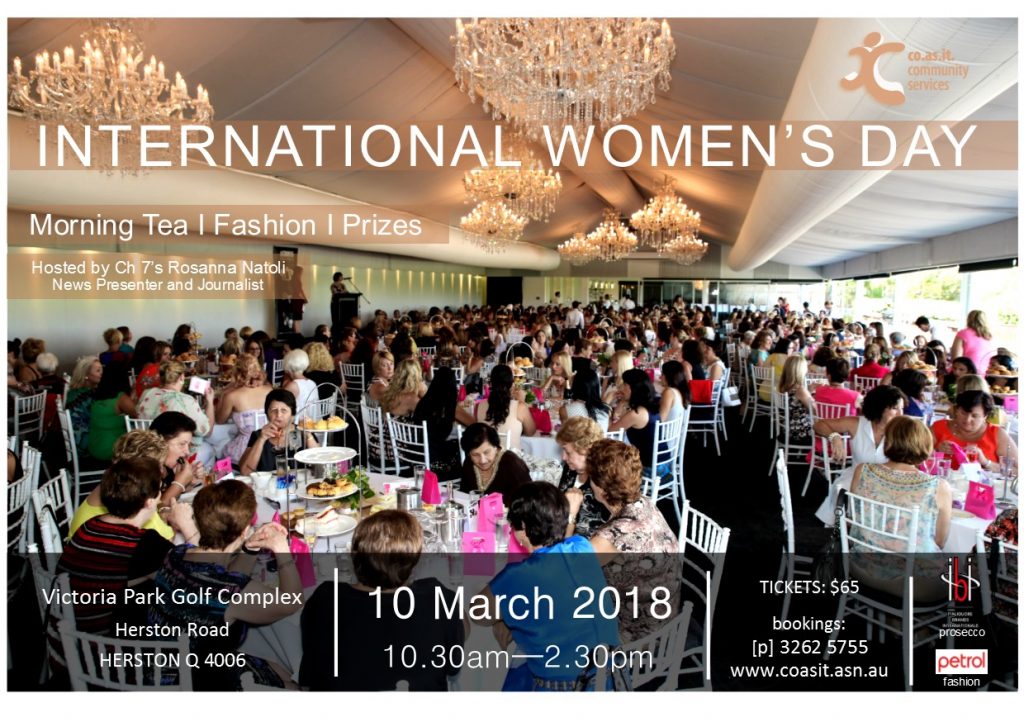 In March of each year a fundraising event is organised to celebrate International Women's Day.  The event has the generous support of women in our community such that we are not able to accommodate everyone wishing to attend.  It is a popular event offering a champagne high tea enjoyed whilst admiring the latest fashion on the catwalk.  Don't miss the opportunity and always ensure you book your tickets early!