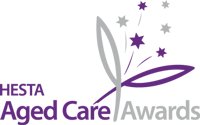 Co.As.It named as Finalist in Hesta Aged Care Awards for Outstanding Organisation.  Winners will be announced on 27th August in Canberra.
HESTA Media Release- 2015 Finalist Co.As.It. "Because we care – A Humanist Approach" Program  (PDF)
MEDIA RELEASE:
QLD aged care agency recognised for its 'humanistic' approach.
An agency providing aged care services to people at home has been recognised for adopting a 'humanistic' approach that has resulted in clients gaining a greater level of independence and control over their daily activities.
Co.As.It Community Services in Albion has developed "Because we care – A humanistic approach" program that goes beyond just providing services to enable older people to live on a day to day basis to include helping the person achieve their personal life goals.
Co.As.It. Community Services is one of five finalists in the Outstanding Organisation category of the 2015 HESTA Aged Care Awards.  The Awards recognise those in the aged care sector who made an exceptional contribution to improving the quality of life for older Australians.